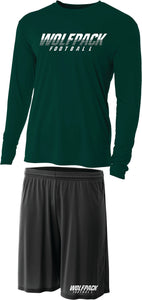 COACHES INDIVIDUAL PACKS -  GREEN TOP/ BLACK SHORTS
BOTH ITEMS ARE DRIFIT MATERIAL
PRINTED LOGO IN FRONT OF DRIFIT AND SHORTS.
1 DRIFIT / 1 SHORT ONLY
***Will Call Option Available***
TURNAROUND OF 12-15 BUISNESS DAYS FOR THIS ITEMS
YOU WILL BE CONTACTED ONCE ITEM IS AVAILABLE FOR PICKUP NEAR YOUR LOCATION.
**All are True to Size / Men and Youth Only Available / No Cancellation or Returns Allowed Once order is Placed**  
This item is not associated with any specific team, school, club, pro team, organization or company.  This item is available for purchase to the general public.